The 20th playing of the Arnold Palmer Cup began in a meaningful "Palmeresque" way, with six players visiting the Scottish Rite Children's Hospital in Atlanta on Tuesday.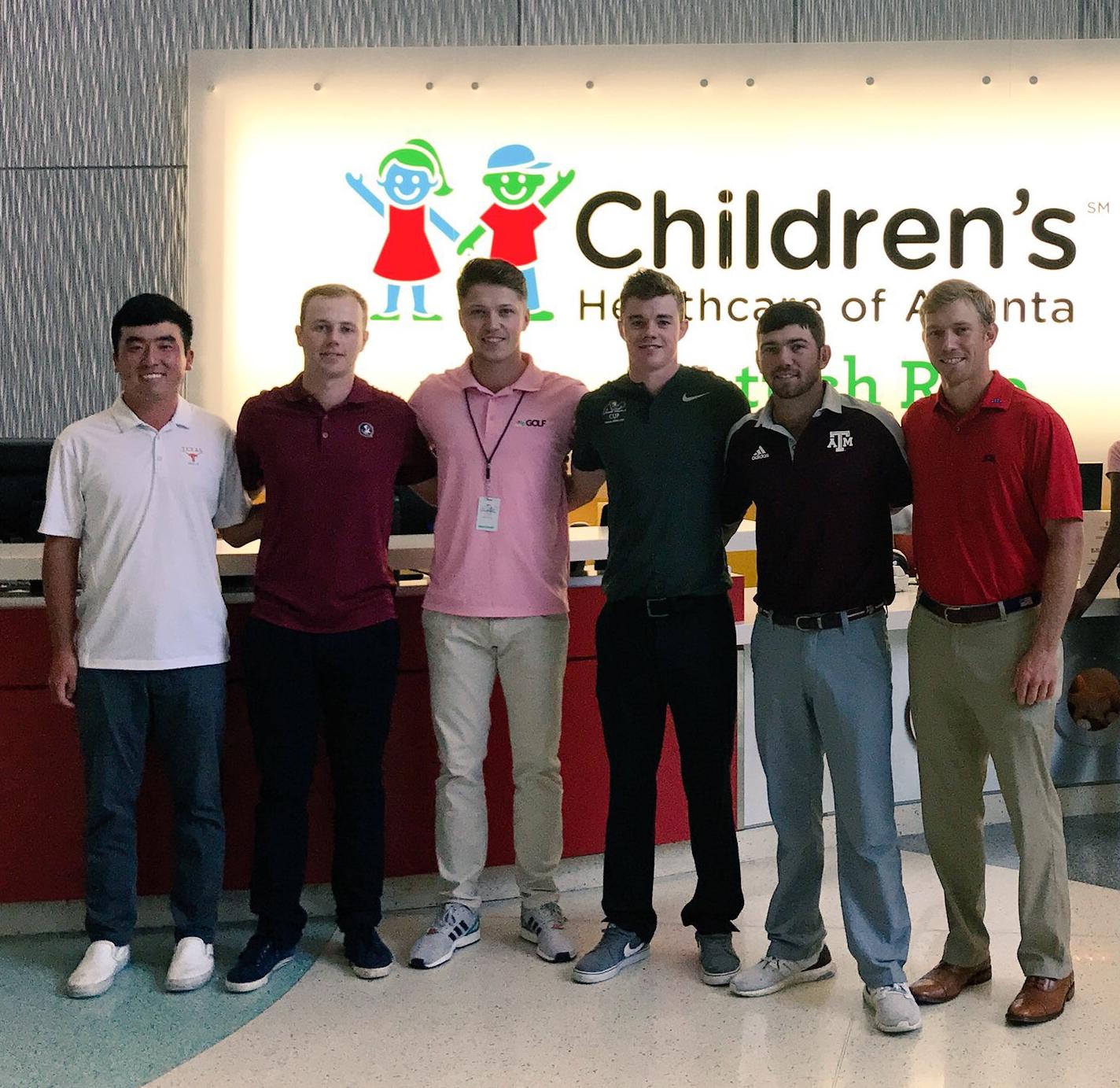 Arnold Palmer Cup players Harry Ellis, Stewart Grehan, and Richard Mansell of Team Europe and Doug Ghim, Chandler Phillips, and Jimmy Stanger of Team USA spent some time interacting with the children at Scottish Rite before they began their preparations for the tournament this weekend.
The players wanted to visit the hospital because they were inspired by Arnold Palmer's dedication to philanthropy and specifically his dedication to providing exceptional care to children.
Arnie's Army Charitable Foundation, Mr. Palmer's non-profit organization which is dedicated to carrying on his legacy of caring and giving back to the community, and these players, members of Arnie's Army, are as well. The Scottish Rite Children's Hospital's mission is to help kids in need. They treat more than half a million children and teens every year and have over sixty pediatric specialties.
"The experience today really put golf in perspective. To see the joy in those kids faces whenever they were just hitting a putt much less making a putt really made a difference in my life," said Jimmy Stanger, a senior from the University of Virginia. "I know one girl had 20 something surgeries over the last two years and to see the joy that she gave off and that she continually showed during the visit just made me realize that there are more important things in life than golf. And I pray that I can continue to leave a legacy like Arnold Palmer left."
Kids from all areas of the hospital came to hang out with the golfers. They played putting games and put their ailments behind them if only for a few minutes.
"Today was awesome. All those kids are going through so much, it's humbling to realize that life is very very valuable," Chandler Phillips, Texas A&M sophomore, said. "Some of them are going through rough times and it was great that we could brighten their day up and maybe help them out with what they are going through."
Beyond doing a few golf related activities, the players colored with the kids in Arnold Palmer themed coloring books, signed autographs, and talked with the kids and their parents.
"It was very humbling to go down there today and see the kids. To see the smiles on their faces was great for realization to see what they are going through on the day to day and they can still put smiles on their faces and they are happy to see us" said Harry Ellis, Florida State junior.
Samantha Grost, volunteer for the Golf Coaches Association of America who coordinated the hospital visit, said that the players did an amazing job with the kids.
"The players did a great job of meeting each kid on their level and making them feel really important." Grost said. "For the players to be able to bring a smile to a kid's face like that is really amazing."
Arnie would be proud.